uSqueez App-Controlled Foot and Calf Massager Review
OSIM uSqueez App-Controlled Foot & Calf Massager Review
I can't resist. As soon as I saw that there is such a thing as an "App-controlled" foot and calf massager – the uSqueez, I knew I had to write a post about it.
This might be a fine foot massager, but I can't get past the app-controlled idea. Is it really too much work to set the intensity level of your massage by pressing a button on the machine? And this machine's not really portable at all!
Apparently it is, because the primary selling point in the description of this machine is that you can avoid disrupting your relaxing massage experience by reaching your hand down to change the controls.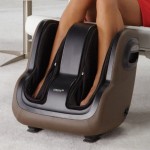 How is it possibly not more work to get out your iPhone, or, as in the picture, your iPad (which of course is even larger), pair it via Bluetooth, and open the dedicated app to control the machine that you're literally already touching with your legs?
Oh well, at least the app is free for downloading. Assuming you have an Apple iOS device, at least. There doesn't appear to be any Android or Windows Phone support.
Ranting about the use of a button-replacing app as the primary selling point for a $379 machine aside, I do see how it could be nice to have custom programs created in the app for a more predictable, yet personal massage experience.
As far as the uSqueeze massager itself goes, it seems pretty straightforward. It comes up to mid calf, although unlike some shiatsu massagers, it doesn't cover the top of your feet. If you're interested in one like this, check out my uPhoria review.
The tilt angle of the leg stand is adjustable, which is nice, although some reviewers complain that it's too tight on the legs. I suppose it depends how substantial your legs are. There's apparently no way to adjust to different size legs or feet.
Anyway, check it out for yourself on Amazon. And, I guess, download the free OSIM uSqueez App (for iOS or Android), so you too can have an app-controlled foot and calf massage. Too bad it doesn't do voice commands like a person.