Strut Your Shoes Kickstarter Campaign
Update: Strut Your Shoes is funded! Their campaign ended at $2,138 of their $2,000 goal.
A few weeks ago, I posted about the Springuru Mattress Shoe campaign on Kickstarter. That campaign is over now, but they were successful, raising 139% of their fundraising goal.
Today, I want to introduce you to another unique foot related Kickstarter campaign, called Strut Your Shoes. Hillary Birmingham, a professional artist in Seattle, Washington, is fundraising for her hand-painted shoe business, StrutYourShoes.com.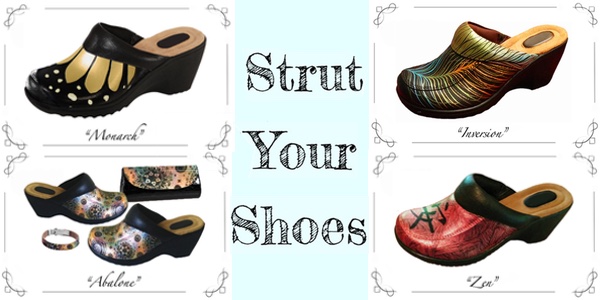 The concept is that local artists in the Seattle area paint these beautiful shoes that you can buy and wear as (almost) one of a kind footwear. Along with being attention getting works of art, the shoes themselves are fully wearable, and the paint should last as long as the rest of the shoe.
In addition to being really cool looking, the campaign claims the shoes should be durable and even comfortable. Since each one is custom created for you, you can specify your shoe size when you order (or when the campaign ends, if you're getting shoes as a Kickstarter reward).
It's a crowdfunding campaign, so you can contribute whatever you want, but the minimum right now to actually get a pair of these custom-painted shoes is $75, including US shipping. That price is limited to the next 98 backers. After that, the pre-order price goes up to $85.
If you're shopping for a Christmas gift, you can get a gift card testifying that you purchased a pair of shoes, or you can pay $125 to order a pair with delivery guaranteed by Christmas.
Here's the Kickstarter campaign video:

I think this seems pretty legit, although the misspelling of the URL in the video at the beginning is a little sloppy.
The campaign ends on December 14, and as I write this, they've raised $700 out of the $2000 they need to get funded. So, go check out their campaign, and get yourself a truly unique pair of shoes!
I received no compensation for featuring this campaign; I just think it's a fun idea. Also, I created the graphic at the top of this post using images from the StrutYourShoes.com website and campaign.