Springuru – Mattress Spring Shoe Kickstarter
Maybe you saw my recent post on how you know when it's time to get a new pair of shoes, or maybe you just want some variety in your footwear.
Well, I just came across this Kickstarter campaign for Springuru. The idea is that the shoes have tiny springs in the sole, similar to a mattress. (Good thing they don't need a separate box spring!) By the way, this isn't a paid post or anything, I just think it's a really cool idea.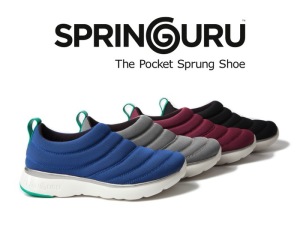 I haven't written about any specific shoes on here before, but having the right shoes is key to having relaxed feet. I've never thought of putting literal springs in shoes before, but it sure sounds like a good idea, right? I mean, walking on a mattress all day would feel pretty good, I think!
In addition to the unique sole, the top is pretty distinctive looking too. It's laceless, and made of a "stretch ballistic nylon" material that conforms to any width foot.
The Springuru shoes don't actually exist yet, but you can pre-order them through the Kickstarter campaign. The campaign has already reached the goal of £15,000 (yes, they're a UK company – it's about $89 USD), but there are some good discount rewards left. Right now you can still order one pair in any launch color for £55, including world-wide shipping. That's a pretty good deal, considering the shipping cost from the UK.
Once they sell out of rewards at that price point, the cost jumps to £60 (around $97 USD) still including shipping. If you miss the Kickstarter campaign, they anticipate the price will go up at least 20% post launch, if they're successful. The campaign ends November 3, 2014, with anticipated delivery in February or March, 2015, so go check them out now.
At launch, they're making them in four colors, cobalt, silver, berry, and black. They have a complete sizing chart on the Kickstarter page as well.
Springuru Video
Here's the Springuru campaign video:
And here's the link to the campaign on Kickstarter.
If you missed my post last week on why it's time for me to get some new shoes myself, check it out here.