OSIM uPhoria Foot Massager Review
OSIM uPhoria Calf and Foot Massager Review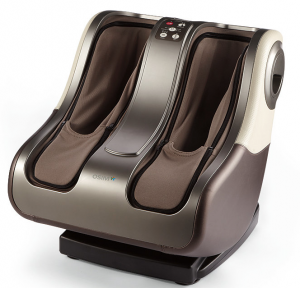 If you've tried other foot and calf massagers that weren't powerful enough for you, the OSIM uPhoria Foot & Calf Massager is quite possibly exactly what you're looking for – if you can afford it. As I write this review, this is the most expensive massager I've reviewed yet on Relaxing Foot. It even beats out the Massage King Mk9199, which I know several readers have purchased. So without further ado, here is Relaxing Foot's uPhoria Foot Massager review.
Of course, as I've said many times before on the foot massager comparison chart, you get what you pay for. There's a good reason why some machines cost as little as $29 and others go as high as the uPhoria, which I found priced at nearly $600.
Basically, the uPhoria is about as good as it gets in the world of home foot and calf massagers. Nearly every review I read describes it as painful, but then, that's partially the point. Well, ok, the pain isn't the point, but think about how you feel after a professional masseuse session. The point is for your feet and calves to feel better afterwards.
uPhoria Features
To accomplish this, the uPhoria uses several features. Let's go from the top down. For an intense calf massage, it uses an "innovative Calf-Gliding system" to simulate a type of Chinese massage called Tui-Na. This technique involves a sort of pushing and pulling motion to stimulate points and help blood circulation.

Next, the machine uses a more traditional squeezing massage on the legs and feet. It can completely envelop the lower legs, even for people with relatively large calves and a variety of foot sizes.
For the bottoms of your feet, the uPhoria uses rollers for reflexology stimulation as a complement to the squeezing. And of course, as you'd expect from a machine of this caliber, it also uses vibration and heat to add to complete the massage.
If you prefer some of these to others, it comes with programs for relaxing, toning, sleep, and reflexology. Personally, I'm most intrigued by the sleep mode, which starts off as a firm massage and winds down throughout the program to help relax your body for sleep.
Of course, there are also manual controls for a custom massage. There are two glide and knead modes, and three vibration settings.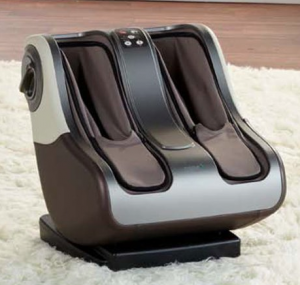 As far as other features, it has an adjustable, lockable angle setting, and a washable fabric cover. On the negative side, as you can tell from the pictures, this is a serious machine, not a light-weight toy. This is far from a portable foot massager. If portability's what you're looking for, check out this one instead.
Dimensions: This unit is 19.5 inches long, 19.25 inches wide, and 20.25 inches high. When it's fully inclined, it drops to 18 inches high. It also weighs a whopping 35.25 pounds, so you'll want to have somewhere to use it where you don't have to keep hauling it in and out of storage.
uPhoria Problems
The biggest issue with the uPhoria is that it can be so intense that it causes bruising or genuine pain. If it turns out to be too painful to use, one suggestion is to try adjusting the angle so it doesn't totally envelop your legs. Or, try wearing thick high socks or even sweat pants until you get more used to such an intense deep tissue massage. Also, reviewers say that it seems to get a little less tight as you use it, although I'm not sure whether that's the machine itself or people's legs growing more used to it.
The closest competition to the uPhoria is the uSqueez. The uSqueez is a little cheaper, but doesn't have the moving rollers in the sides for the calves, which are a really nice feature. If you're serious about the calf massage and you can afford it, you should consider the uPhoria.
uPhoria Foot Massager Review Verdict
If you can afford it, buy it. You won't find a more powerful, higher-quality foot and leg massage machine available. It's sold by Brookstone, and listed on Amazon here. Otherwise, if the uPhoria is out of your price range, or you just want something less intense and more relaxing, check out the comparison chart for other options.