MMF06 MediMassager Review – Strongest Foot Massager
A Review of the MediMassager MMF06 Variable Speed Foot Massager
Looking for a powerful foot massager? Other models on our comparison chart not strong enough for your needs? The über-powerful MediMassager MMF06 Variable Speed Foot Massager might be exactly what you're looking for. Here's our MediMassager review:
This 2013 foot massager is an upgrade to an older model. The MMF06 features a powerful variable speed motor with 11 control settings, giving you speed options from 1,000- to a super-fast 3,700 rpm's. MediMassager claims this is the single most powerful foot massager available.
Unlike many other foot massagers, such as Shiatsu style foot massagers, or the Ineed soothing massager, the MediMassager MMF06 has no rounded rollers. Instead, this model consists of a single foot pad, placed at a supposedly optimum angle for improving comfort and circulation. The idea is that the design is ergonomically friendly, allowing you to sit in a chair and put your feet on the massaging pad.

The benefit of this extremely powerful device is that it should help with circulation stimulation, fight joint pain, and help to relax your foot and leg muscles by reducing tension. In fact, unlike cheaper models, this massager has  FDA certification as a therapy device.
Although it's expensive – at least compared to other consumer models – our MediMassager review of the MMF06 argues that it ought to be worth the money. It's more powerful than anything else out there, and unlike cheaper machines, it comes with a one year warranty. On Amazon.com, which is usually the best source of reviews for any product like this, it has a 4.6 star rating, with 46 reviews available as of when I'm writing this article.
A number of customers with diabetes claim this massager has helped them treat their neuropathy, increasing circulation in their feet and legs. The variable speeds are great for sensitive feet, since on days when your feet hurt more, you can use lower settings to still help with soreness and circulation. Another reviewer mentioned that this is a good foot massager for counteracting peripheral neurapathy caused by chemotherapy.
As it prominently states, this device is not a toy. It's powerful, and could undoubtedly cause damage if used incorrectly. As with any medical device, you should of course talk to your doctor before using it. It can be used barefoot, but it's strong enough to be beneficial even when you're wearing shoes or just socks.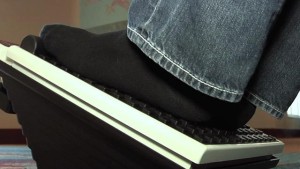 Also, it's not a light-weight machine. It weighs in at a whopping 12 pounds! On the positive side, this means that it won't slide around when you're using it, or walk away from you while you're sitting on a chair relaxing your feet. On the other hand, it also is rather industrial looking in appearance, and its weight makes it harder to just slide under a table to put it away.
However, it's only 9.5 inches tall, so you should be able to fit it under your desk. Depending on your work environment, your coworkers may not even know it's there. Or, they might even want to borrow it!
Build quality is good. You get what you pay for. The plate is rubberized, so it shouldn't vibrate your feet off of the platform. It can be used on carpet or on a wood or linoleum floor without slipping away. Also, it's available with plugs for American power, the European Union, or England.
There is also an "arch-bar" at the top of the pad. It's intended for putting your toes on. This allows your toes to get vibrated, or your heels. There's room on the rubberized, textured surface to fit both feet at once.
MMF06 MediMassager Review Summary
Benefits and features:
· Probably the most powerful electric foot massager available
· 11 speed options, adjustable from 1,000-3,700 rpm's
· Rubberized foot pad with arch bar targeted for pressure points
· Approved by FDA for therapeutic use
· Great for diabetic patients or other who have neuropathy to help promote blood flow and lessen pain
· Works well on either hardwood, carpet, or tile floors
· One year warranty included
MediMassager Review Cons:
· Fairly loud when operating
· Industrial looking
· Heavy weight
· Vibration massage only – no heat
· Expensive for a product in the home foot massager category
Recommendation: Buy (depending on your needs)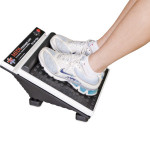 The majority of the customers reviewing the MMF06 love it. Buy it on Amazon. Most report seeing and feeling noticeable improvements in aches and pains, circulation and overall foot health and relaxation.
That said, this machine might be more than what you're looking for. If you don't specific medical needs requiring such a powerful foot massager, you might be just as well served by something a little cheaper, like this Foot Vibe Vibration Massager.