Best Infrared Foot Sauna Showdown
If you're looking for an at home foot spa device, the first thing you've likely considered is some variation on a bucket with water, like these. And those massage buckets can be great as a tool for relaxing after a long day. But have you ever thought about an infrared foot sauna without water?
These dry foot saunas can be a great foot relaxation tool and they have some distinct advantages over bucket spas. First, they have no water. That means there's no mess, and no setup. Best of all, you don't need to wait for the water to warm up before you stick your feet in. When you're done, all you need to do is unplug it. There's no water to slosh around or heave up into a sink drain.
But which one should you get? I've reviewed three options. Let's compare these different infrared foot sauna options to find the best one for you.
Hanilmedical: Dry Foot Calf Sauna Heater
First up for review is the generically named Dry Foot Calf Sauna Heater from Hanilmedical. I'd never heard of Hanilmedical, so I looked them up, and they appear to be a Korean export manufacturing company. It's a little difficult to get any information on them, since their website is written in Korean. The label on the product itself says "North Wind" followed by a line of presumably Korean script that I can't read.
Now, just because this foot heater comes from a generic export company doesn't make it a bad option. Let's face it; most foot care products are likely to be imported.
That said, I think I'm a little suspicious of this particular product. From the pictures, it appears to be a very simple piece of synthetic leather-like material (although who knows? It could be cardboard for all I can find!) folded into a boot shape, and a heating element with a temperature controller that you insert into the boot once it's assembled.
The dimensions given are 460 x 305 x 95 mm. Assuming the 305 mm is the width, that's a hair over 1 foot wide. The space you insert your foot into doesn't go quite all the way across the top, so someone with large calves will likely not fit inside the heater. All of that, however, assumes the numbers given are accurate, which I don't think they possibly can be. 95 mm is only 3.75 inches. Clearly, if you're going to put your feet inside it, this device has to be larger than 3.75 inches in every dimension.
In addition, as of right now, there are exactly zero reviews on Amazon for this model, and none of the photos show it plugged in. Coupling that with the odd choices of product photos and lack of description, I'm moving from "a little suspicious" to "very suspicious" of this device. Also, even though it's described (in a product photo) as AC220V/60hz with safeties, this kind of almost certainly untested power supply and heater scares me – especially if I'm supposed to put my feet into it!
If this Hanilmedical device were the cheapest option, I might be willing to suggest going ahead and giving it a shot. But, as I write this, it's actually the most expensive (without shipping) of the three dry foot sauna options I'm reviewing. So, let's move on to something hopefully better.
Verdict: Skip this one, unless you're feeling really adventurous.
---
Health Mate: Cedar Infrared Foot Sauna
Our next option is the Health Mate Cedar Infrared Foot Sauna. Let's start by pointing out that Health Mate is a legitimate sauna company based in Buena Park, California, and they've been around since 1979. That means this model is your best bet of these options if you're concerned about such niceties as a warranty or customer support from the manufacturer.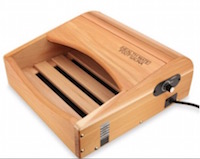 This infrared foot sauna only covers your feet, so your calf size doesn't matter. The sauna dimensions are 14 in. wide x 15 in. deep x 7 inches high. It's made of Canadian Western Red Cedar wood. The infrared heating element has a standard US electrical cord for power, and a dimmer knob to control intensity. Electrical specs are 120V / 56W / 15A.
It's small enough that besides putting it in an aromatherapy room or somewhere else at home, it could easily fit under your desk at work, if you wanted. Personally, I think it's attractive enough that it would fit right in a living room stocked with This End Up furniture.
Any sweat (it is a sauna, after all!)  can be easily cleaned off of it by just wiping it down with a damp cloth, just like you'd do with exercise equipment.
Overall, this is good option from a reliable company at a decent price. You can get it here on Amazon.
Verdict: If you're concerned about quality, this is the best infrared foot sauna to buy.
---
Wellspring Products: Far Infrared Sauna Barrel
Similar to the first device above, this is a generically branded product. However, unlike the first one, this one actually has reviews on Amazon. It's still generic and probably not supported well after purchase, but it is at least available elsewhere, like through Shop Your Way (for a higher price).
In terms of size, the barrel sauna form is again midway between the first two. It's 14 in. wide x 19 inches deep x 18.5 inches high. Reviewers suggest that it's big enough for feet sizes all the way up to a men's size 13. Several reviewers suggest placing feet in plastic bags before using this, to catch sweat drips.
The chief problem with this sauna design is how to sit to put your feet inside it. It's not intended to fit your knees in, but to get your lower legs and feet inside, you need to sit in a straight backed chair directly above it. If you can find a comfortable position, it works well. It generates heat effectively, taking about 5 minutes to reach full temperature. Power is AC110V.
There are two control knobs: a temperature setting and a 60 minute timer. The entire device only weights around 11 pounds, so it's easily portable, although it won't fit under your desk like the previous option.
Verdict: If you want to heat both your legs and your calves, this is the barrel for you.