The Foot Hammock Kickstarter Campaign
The previous Kickstarter campaigns I've mentioned on the blog here have ended, but with Kickstarter, there are always more great ideas to fund!
Here's one I think is really cool. Hope you like it too!
[This campaign ended on February 8 after raising $113,212 of its $15,000 goal.]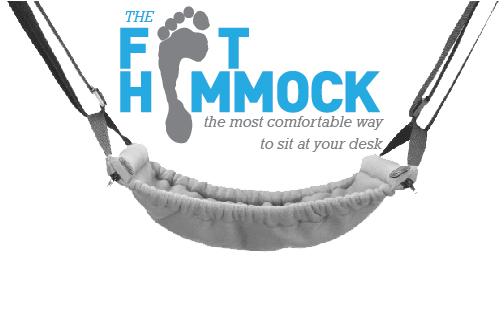 Introducing: The Foot Hammock
For the second time in my life, I'm working in a job that involves a lot of time sitting at a desk. I have a nice swivel chair, but nowhere good to rest my feet. My job also involves a lot of reading books at work, and I often find myself resting my feet on the edge of my plastic garbage can. It's not very comfortable. Well, Matt Hulme, a college student from Provo, Utah, has a solution: the Foot Hammock.
Really, it's exactly what it sounds like. It's a hammock for your feet. Here's the Kickstarter video:
It's machine washable, and attaches to your desk via a "powerful, patented adhesive product" that firmly attaches and can be easily removed. Somehow I'm guessing the adhesive was the hardest part of this to develop.
The hammock comes in three versions at launch: the original mesh (for with your shoes on), a comfy fleece version, and a heated model of the fleece version. The heated model has an electrical cord with a foot (of course!) control.
Pricing right now starts at $20 for a mesh model, $30 for a fleece version, and $40 for an electric fleece hammock.
All versions are machine washable, and they come in eight color options. Or, if you pay $200 for the highest reward option for two hammocks, you can get them custom printed with whatever you want.
The campaign has already more than doubled its $15,000 fundraising goal, and the early bird rewards are pretty much gone, but you have until February 8, 2015 to back the Foot Hammock here. The goal is to ship them to backers in June, 2015.
If you like the idea of something to relax your feet while you sit at a desk, check out my comparison of under desk foot massagers.
As usual, I've received no reimbursement for linking to this Kickstarter campaign. I just think it's a cool idea!